Conversations drive sell. And, traditional landing pages like "Forms" lack the concept of two-way communication. Hence, maximum 10% of the visitors fill and submit them. But, with "Conversational landing pages" you can boost the lead generation by up to 20X.

A landing page is known as the single web-page where visitors land, after clicking on PPC- based Google AdWords, Facebook ads, or other social media ads. The pure purpose of such pages is to either market a product, or gain the information of visitors, or make'em go for a CTA, or directly turn them into the customers. Whatever be your reason, with the new conversational landing page, you can improve the conversion rate exponentially by up to 20X.
Conversational landing pages can be used to generate leads, turn visitors into customers, and to improve the marketing ROI.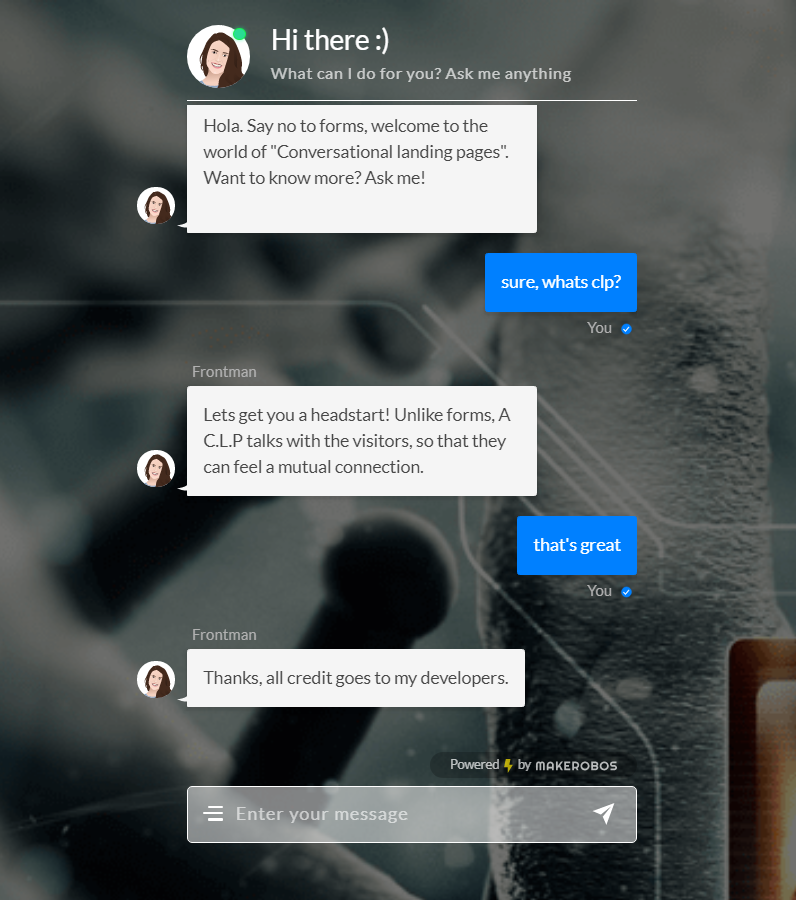 How Conversational Landing Pages Work?
Right after clicking on a PPC link, users will be shown a chatbot enabled interactive web page. After landing on a C.L.P, the predefined conversational flow will begin to keep visitors engaged. Moreover, unlike forms, no response is saved, if a user leaves it without hitting the "Submit button", in CLP the responses will be saved for you.
PS: Need help customizing conversational landing pages?
Advance Features:
PWA based landing pages: Progressive web apps are the next-big-thing for smartphone users. And, creating landing pages with this tool can get your business deeply closer to your prospects.
SEO optimized: You can make conversational landing pages optimized for SEO as well. Just provide a meta title and description in the SEO settings section.
What's the Conversion Rate of Conversational Landing Pages?
Much greater than the traditional landing pages, in fact, it can help you tap the untapped potential of your business. In addition, you can maximize the conversion rate by up to 20X.
What are the Use cases of "Conversational landing pages"?
To register students for an online course.
Event registration. Collect the information of people through a conversational manner.
Offer a free trial of products to increase your customer base.
Offer community membership programs to boost your lead generation.
Invite users to download a mobile App.
Boost your product registration effectively.
Last but not least, get the customers' survey in a conversational manner.
Note: Conversational Landing Page feature is available in "Business" and "Enterprise" plans only.

Makerobos Help Center